Note: A progress report is sometimes called a field report or a quarterly / six monthly report.
Progress reports are used by a project team to update the donor or head office on the status of the project (for example, at the end of every quarter or 6 month period). There are also times where progress reports are shared with partners and stakeholders.
In many cases the donor or organisation will have a specific template that must be used for a progress report. If they don't have a template then you might find this template useful.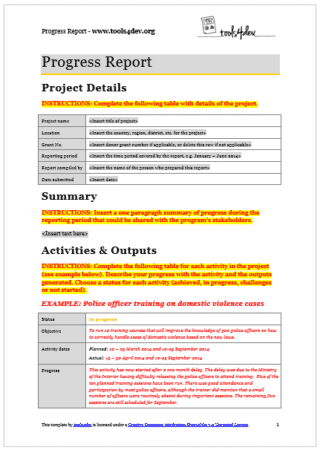 This progress report template is appropriate when:
You need to to update your donor or head office on the project.
You need to update your partners or stakeholders on the project.
You are a donor or head office and you want your project teams to update you regularly.
This progress report template is NOT appropriate when:
Your organisation or donor already has a standard template for progress reports (in which case use their template).

The Progress Report Template by tools4dev is licensed under a Creative Commons Attribution-ShareAlike 3.0 Unported License. All other content is © tools4dev.
Photo by Dai Fujihara
Did you find this article useful? We need your help!
tools4dev is a free resource for the international development community. We need your help to cover our basic running costs so we can continue to provide these resources for everyone who needs them. If you are using tools4dev resources in your organisation or university it would be great if you could make a small contribution.