It used to be that finding national statistics was a time consuming business. You had to hunt through government reports, many of which were not available online, or were of dubious origin. You could spend days just trying to find a few numbers for the opening sentence of your proposal or presentation.
These days things are much easier. There are plenty of online databases with national statistics from a wide range of countries. Many of these databases are available for free through international organisations and the UN. Here are three of my favourite sources.
The United Nations Statistics Division has created a single website that provides access to all UN databases in one place. You can find links to national statistics on any of the following topics:
Crime
Education
Energy
Environment
Finance
Food and Agriculture
Gender
Health
HIV/AIDS
Human Development
Indicators (e.g. Millennium Development Goals)
Industry
Information & Communication Technology
Labour
National Accounts
Official Development Assistance
Population
Refugees
Tourism
Trade
Here is an example of the results when I looked up national homicide rates in the crime database. You can copy the statistics direct from the website or download the whole table for further analysis.
UN Data also provides links to government data sources for many countries, such as the State Statistical Committee for Azerbaijan or the National Statistical Office of Malawi. This can help you to find the original source of many statistics.
The World Bank has also created a central repository for national statistics. You can search by country, topic, or indicator. The database includes statistics on:
Agriculture & Rural Development
Aid Effectiveness
Climate Change
Economy & Growth
Education
Energy & Mining
Environment
External Debt
Financial Sector
Gender
Health
Infrastructure
Poverty
Private Sector
Public Sector
Science & Technology
Social Development
Social Protection & Labor
Trade
Urban Development
The interface is a lot more impressive than UN Data. Here is an example of the result when I searched for carbon dioxide emissions per capita:
The results can be presented as a table, or with the click of a button you can see them as a graph…
…or a map (pretty impressive)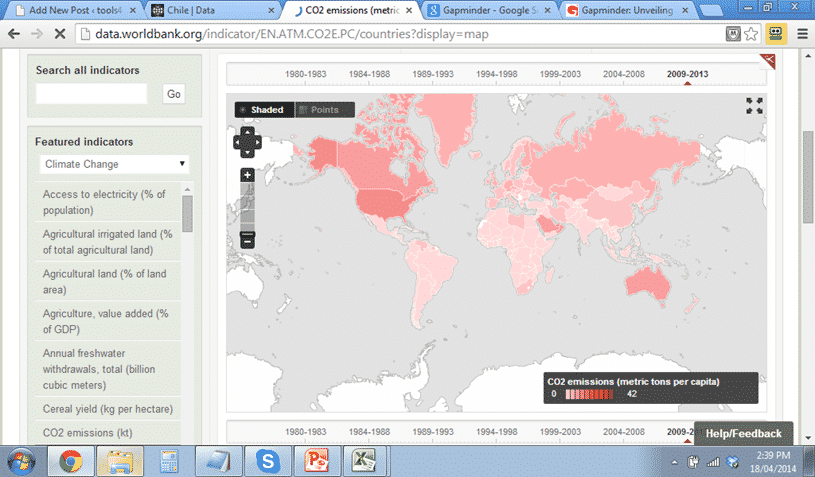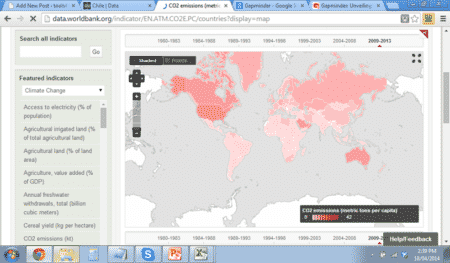 For the all singing, all dancing version of national statistics you can't go past Hans Rosling's Gapminder software (you should also watch the best stats you've ever seen in his 2006 TED talk).
Gapminder allows you to create animations of national statistics that show trends over time. The software comes pre-loaded with statistics on:
Life expectancy
Economy
Society
Education
Energy
Environment
Health
Infrastructure
Population
Work
The image below is from an animation showing the relationship between fertility and income over time for South Korea and Bangladesh.
Photo by WHO